Haobet77 –
The Top Platform For Elite Gamblers
Endless entertainment, fun, games, and multiple opportunities to make quick cash… sounds like a dream?
Welcome to Haobet77!
As Myanmar's leading platform for the top gamblers from around the world, Haobet77 is where you can have access to unlimited fun, day or night. This gambling website combines the best seamless graphics, outstanding bonuses, and a world-class selection of game titles.
Check out the unbeatable reasons why Haobet77 is a hot topic for every gambler in the industry.
Impressive selection of games
The best gambling platforms stand out from the rest because of their selection of games, and we totally understand that. So, our gambling platform is packed with every type of casino game, including slots, live betting, eSports, baccarat, and many more.
Expert gamblers can make a deposit at our site and start wagering with real money and win handsome amounts. But we also have a "play for fun" category for beginners so you can get the feel of the game without investing in real money, which is fantastic.
Outstanding user-interface
When you log in to our gambling site, you will be greeted by fun graphics, bold fonts, and an overall happy environment. Beautiful croupiers welcome you to the site, and our site runs exceptionally smooth and glitch-free on desktops, PCs, tablets, and Android smartphones, so you can play any game anywhere you want.
Of course, the gambling site is also super-easy to navigate with easy-to-use buttons. Keeping in mind our international clientele, our gambling site also runs in multiple languages, including English, Chinese, Thai, and Burmese. Simply go to the top right panel of our site and select your preferred language.
Internationally, M8Bet, Pragmatic Play, Evolution Gaming, and EvoPlay are the best and most innovative game software studios. And you guessed right, every game title in our inventory is from the best names in the industry – meaning unrivaled graphics and gameplay, unlimited fun, and high RTP.
As expected, our gambling platform is also home to some of the top gaming providers in Myanmar, so you will have endless options.
If you're curious about Haobet77 payment options, you will love this – we have one of Myanmar's first e-wallet systems for our players. This new payment technology on our gambling site automatically transfers the credit to your account, and all you need is a working/active phone number, which makes everything easy and convenient. In addition, bank transfers are also an option if you prefer, so you have plenty of options.
In terms of customer support, we have Viber lines 1 & 2, live chat, and telephone support with trained agents to take care of all your queries and options.
At Haobet77, we believe in bringing joy and lots of rewards to our players, so we have tons of rewards and promotions for everyone. Take a look:
New register bonus of up to 150%
Daily attendance bonus
VIP daily bonus of up to 200%
Slot welcome bonus of up to 300%
Game-specific daily rebate
If that's not enough, our rewards include merchandise, in-game diamonds, electronics, and phone bill payment, and you don't want to miss it. The Haobet77 affiliate program is also a fantastic way to make money on the side, so be sure to check it out

Customers of HAOBET77 will receive     1 HAOPOINT point that can be exchanged for a gift for every deposit of 1000 kyat as a special program of HAOBET77″
Congratulations to the members of HAOBET77.
Every 1,000 MMK Deposit = 1 Point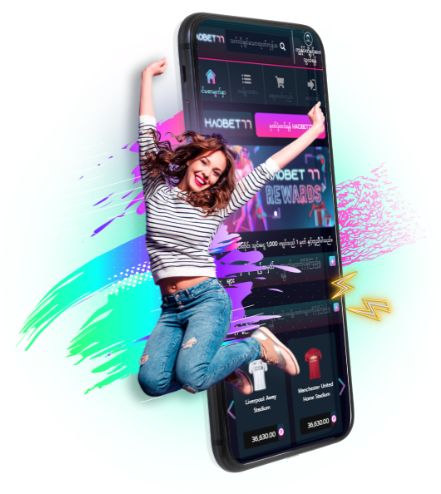 What else to expect from us?
As a leading gambling platform in Myanmar, Haobet77 is home to several of the top gaming developers, both local and international. We have mentioned some of the international gaming studios above, so here's a section dedicated to the best local names and what to expect from them.
Gambling veterans in the Asian community are already familiar with JDB Games. It is a slot vendor that has been around since 2010 and was formerly known as Jiadoubao and JDB168.
It is an award-gaming brand that has produced some of the best slot titles, such as Lucky Dragons, Wu Kong, Coffeeholics, Moonlight Treasure, and Formosa Bear. For slot machine lovers, you will want to know that the games from this studio have great gameplay, high scalability, and of course, high RTP of up to 96% making them a hit among players.
Joker123 is another name to reckon with among Asian game developers. The primary focus of this gaming studio is slot game betting, but you will also find several fish game betting titles from the brand. Player favorite titles from this iGaming brand include Yao Qian Shu, Hai Ba, Golden Toad, and Li Kui Pi Yu, among others.
The progressive jackpots from this premier Myanmar game developer are also a crowd favorite. Apart from providing slot game titles to top gambling platforms such as Haobet77, Joker123 Myanmar operates as a standalone online casino. The casino has very attractive rewards, great graphics, and round-the-clock customer care, which is very attractive to players.
jdbXR is another trusted name in the Asian gambling industry. If you are unfamiliar, this gaming studio and casino offers top games to gamblers from all over. As the game provider, you will have everything from slot titles, video, lottery, sports games, and Pokdeng.
Since it also functions as an online casino, you will find top features, including numerous selections of games, colorful and smooth graphics, and a seamless user interface. You can also expect top features such as attractive bonuses, great customer care, and multiple languages on the site.
777kyat is synonymous with Dragon Tiger among the gambling community in Myanmar, but this gaming developer and casino have much more to offer. It provides some of the best slot games for the Android platform in the region, but of course, it also runs great on PC and desktops.
Apart from the slot titles that players love, there are other 777 games in Myanmar that you can't miss. UG sports, jackpot fishing, IGK sports, and Dragon Treasure are some of our top favorites. Among the new titles, Crazy777 and Thor X are definite standouts with immersive graphics and realistic gameplay.